The power-driven bend is fixd torque wrench ( the torque wrench is fixd in the power-driven right angle ) with the power-driven settled torque wrench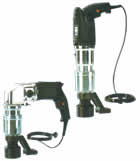 The power-driven settled power-driven bend of torque wrench /EDSW set of EDS's set is fixd the torque wrench
Fiing the knob square wrench is consising of the power-driven drive motor , form planet shape gear series and the microcomputer control module system force the gaiing mould wrench . It havees the listed below distinguishing feature :
1 , have by the patent technique menu control display . On the basis of the import whorl dimensions and the bolt intensity rank is fixed the torque voluntarily , and the torque value may be regulateed by means of inputing the push-button .
2 , the revolving joint : The drive components may come off turns on that the gear unit circles 360 s by self is favour of the convenient task .
3 , the velocity is chooseed : Increment turntable button selection race is rotated speed .
4 , ( STA ) gos back voluntarily : Put up the largesttest rotation speed voluntarily with the torque that attaines the demand .
5 , the high accuracy microcontroller : Accuracy gauge 4%

6 , the liquid-crystal display ( LCD ) : Directly display the demand torque .
7 , the lock velocity haveing that the bulk is little and weight is light and pull down quickly and in immediate future the prompt convenience of torque regulateing and attains fixes the torque and to cease work , the largesttest torque attainability 20000Nm .
8 , than the hydraulic pressure wrench still more high efficiency economy selection , the great diameter bolt nut mission loading and unloading is completeed remarkably , it is alike against the hydraulic pressure wrench , shock quality is not brought , but such is screwed tightly and disassembles velocity quicklyer than the hydraulic pressure wrench , and moves forward an advancing effectiveness , but price is more economical than the hydraulic pressure wrench , and dispenses with the protection .
Use :
Matching somebody with somebody in the way of the anti- arm of force of integration , and loads and unloads six jiaos of bolts either nuts , and is living when screwing the taut task , the capacity automatic control torque size is applicable to the fire and hydraulics power generation in the mill and mineral oil and coal reach and railroad and factory building construction , large installation , vehicle fitting and Shi Hua piping and pressure container and so on adjust the screwing the profession that taut torque either axial strenuously possess the rigorous demand of whorl fastening piece . Since adoping quiet twisting together to form , design tabrication does not there is not the shock , and the anti- arm of force of form of characters eases jockey's labour intensity , and rigorous demand and the bolt particularly being applicable to adjust beforehand the taut force to possess is pulld down to lock amount and far more either is pulld down the lock situation frequently .
Technique parameter and dimensions data sheet


| | | | | | | | | |
| --- | --- | --- | --- | --- | --- | --- | --- | --- |
| Data \'s type | EDS-15 | EDS-20 | EDS-35 | EDS-55 | EDS-75 | EDS-100 | EDS-150 | EDS-200 |
| Bolt diameter Mm | M20-30 | M22-36 | M30-45 | M36-52 | M42-60 | M52-72 | M60-80 | M72-95 |
| The nut adjust along Mm | S30-46 | S32-55 | S46-70 | S55-80 | S65-90 | S80-105 | S90-115 | S105-135 |
| D mm | 85 | 78 | 86 | 96 | 112 | 134 | 146 | 146 |
| H mm | 130 | 158 | 184 | 190 | 201 | 285 | 305 | 325 |
| b mm | 34 | 78 | 91 | 91 | 103 | 79.5 | 97 | 108 |
| Import way Mm | 12.7 | 12.7 | 12.7 | 12.7 | 12.7 | 12.7 | 12.7 | 12.7 |
| Output Fang Zhou B | 25 | 25 | 30 | 40 | 45 | 50 | 55 | 60 |
| Rotation speed ( I/min ) | 204 | 49 | 18 | 13 | 5 | 5 | 5 | 5 |
| Drive ratio | 4.8 | 17 | 20 | 23.4 | 25.8 | 67.5 | 74.8 | 96.8 |
| Weight Kg | 2.6 | 3.9 | 3.5 | 7.5 | 10 | 17 | 25 | 31 |
| Torque value Nm | 1500 | 2000 | 3500 | 5500 | 7500 | 10000 | 15000 | 20000 |

The power-driven bend of EDSW is fixd torque wrench ( the torque wrench is fixd in the power-driven right angle )

| | | | | | | | | |
| --- | --- | --- | --- | --- | --- | --- | --- | --- |
| Data \'s type | EDSW-15 | EDSW-20 | EDSW-35 | EDSW-55 | EDSW-75 | EDSW-100 | EDSW-150 | EDSW-200 |
| Bolt diameter Mm | M20-30 | M22-36 | M30-45 | M36-52 | M42-60 | M52-72 | M60-80 | M72-95 |
| The nut adjust along Mm | S30-46 | S32-55 | S46-70 | S55-80 | S65-90 | S80-105 | S90-115 | S105-135 |
| D mm | 85 | 78 | 86 | 96 | 112 | 134 | 146 | 146 |
| H mm | 130 | 158 | 184 | 190 | 201 | 285 | 305 | 325 |
| b mm | 34 | 78 | 91 | 91 | 103 | 79.5 | 97 | 108 |
| Import way Mm | 12.7 | 12.7 | 12.7 | 12.7 | 12.7 | 12.7 | 12.7 | 12.7 |
| Output Fang Zhou B | 25 | 25 | 30 | 40 | 45 | 50 | 55 | 60 |
| Rotation speed ( I/min ) | 100 | 30 | 15 | 10 | 4 | 4 | 4 | 4 |
| Drive ratio | 4.8 | 17 | 20 | 23.4 | 25.8 | 67.5 | 74.8 | 96.8 |
| Weight Kg | 2.6 | 3.9 | 3.5 | 7.5 | 10 | 17 | 25 | 31 |
| Torque value Nm | 1500 | 2000 | 3500 | 5500 | 7500 | 10000 | 15000 | 20000 |