The hydraulic pressure nut breaks down the utensil the sliceeing ( nut is chop the engine turning on )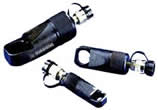 One , the compendium
Spoilting by rust the nut resects readily
The spring reduces voluntarily
Tightly designing is convenient for the use
The explosion proof environment is usable
In high temperature of bolt which widely employd in industry manufacture hat ( nut ) is living outdoors either the corrosiveness environment , that some are spoilted by rust to bite is dead , some are acceptd the harm thanks to tamping bumping a button , in short having ariseed the problem , it is very much difficult to disassemble the nut , the way of work in the past is utilizing ( gas ) to solder and cuts nut and bolt simultaneously usually , however is living some in the particular operational mode environment , and strictly forbids now and then employying firearms ( electricity ) to solder the operation , high-handed high temperature Guan Lu of coal powder warehouse like the power station and oil tube road and so on the part , will replace the nut bolt still more allowwing man be at a loss what to do , the successful patent produce - hydraulic pressure nut of the development of this mill scientific research personnel staff after storms a strategic pass breaks down the utensil sliceeing .
May not flare up and the disuse electricity , and not injure the bolt silk buckleing , portably and prompt and security and resolves to high efficiency bolt nut disassembles and replaces a hard nut to crack .
Two , the technique parameter
| | | |
| --- | --- | --- |
| Type | Work capability ( T ) | Detachable six jiaos of nut limits |
| NC-1319 | 5 | 13mm-19mm |
| NC-1924 | 10 | 19mm-24mm |
| NC-2432 | 15 | 24mm-32mm |
| NC-3241 | 20 | 32mm-41mm |
| NC-4150 | 25 | 41mm-50mm |
| NC-5060 | 50 | 50mm-60mm |
Three , the use means
1 , unfolding to fill oil , the shail is squeezeed in , stirs the hand that the oil pump box soaks packed 20#'s machine oil , either hydraulic oil , and closes down to unload the lotus valve .
2 , shall break down the utensil sliceeing head Kong Tao enteres the nut dealed with damagedly , and the pendulum is being place levelly .
3 , the oil pump is stird to the pressure , and cause the chopper peak come out to carry forward till the nut , temporary serves as that the chopper peak moves forward the nut two / pump is geted to work to the pressure that have to be careful , so as not to having puted forth one's strength abruptly , the chopper speedily by the nut is chop to turn on injureing the bolt silk to buckle .
4 , when hears " Ba " chops to crack hour , in immediate future expresss that the nut has been broken down and turns on , and ceases to be getting near .
5 , screws to turn on unloads the lotus valve , gos back the home position behind the chopper , and takes off chopping that the utensil the turning on work finishes .